From SAVE: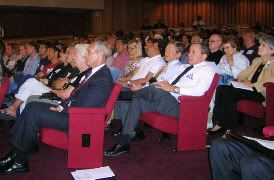 On behalf of SAVE's board, staff and its volunteers, we would like to thank the community for its support during the years it took SAVE to pass the Domestic Partner and Family Health Coverage Ordinance. The efforts paid off with an 8-4 vote by the Miami-Dade Commission to provide domestic partner benefits for its employees and to establish a domestic partner registry that is open to anyone in the world. We would like to thank the unions that supported and lobbied for this ordinance, SEIU 1991, AFSCME AFL-CIO Local 1542, and AFSCME Local 121 and the firefighters union. We especially like to thank Commissioner Katy Sorenson who began this journey with us in 2003 and worked hard to make sure that this ordinance was passed. Commissioner Sally Heyman must also be thanked for her passion and commitment to this ordinance. All the commissioners that voted for this fair and equitable ordinance (Commissioners Edmonson, Gimenez, Jordan, Moss and Sosa) should be thanked but especially chairman Bruno Barriero who deftly maneuvered this ordinance through to victory.
In order to achieve yesterday's historic vote, SAVE passed a domestic partner registry in Miami Beach and we need to thank the Miami Beach Mayor and Commission for its commitment to equality. We ultimately received the support of the Greater Miami Chamber of Commerce through the efforts of SAVE and Steve Adkins of the Miami-Dade Gay and Lesbian Chamber of Commerce, Daniella Levine of Human Services Coalition, Santiago Leon of ACC Hall International, SAVE board member Judd Goldberg, and John Messer of Grant Thornton.
During these years SAVE was also fortunate to provide transgender protections in Miami Beach and also in the City of Miami through their Citizen's Bill of Rights (thank you Commissioner Marc Sarnoff). In addition, SAVE successfully lobbied for all city of Miami Beach vendors to provide domestic partner benefits to their employees (thank you National Center for Lesbian Rights and Equality Florida).
But most of all we would like to thank all of you who have volunteered and donated money to keep SAVE as the LGBT political voice of the community. Thank you for the emails you've sent and for showing up to the commission chamber when asked to do so. We are proud of our partnership with all of our sister LGBT organizations and thank them for their unwavering support. (Aqua Foundation for Women, Care Resource, Equality Florida, Freedom Democrats, Miami Gay & Lesbian Film Festival, Miami-Dade Gay and Lesbian Chamber of Commerce, Pandora Events, Pridelines Youth Services, Safe Schools South Florida)
We will soon be in touch to let you know when you can begin registering your partnership at the county!
All the best,
SAVE
Click here to watch video footage of the proceedings. The Domestic Partner and Family Health Coverage Ordinance, was item 7A on the meetings agenda, it is introduced at 47th minute of the video.
Steve Rothaus' has chronicled SAVE's involvement with the ordinance, in an article for the May 20th entry of his column/ blog Gay South Florida. Click here to read it.
Please consider making a contribution or volunteering your time to SAVE.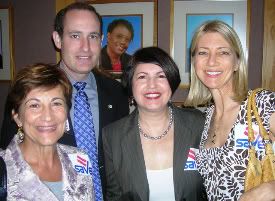 Photos courtesy of Chip Arndt