From Pandora Events: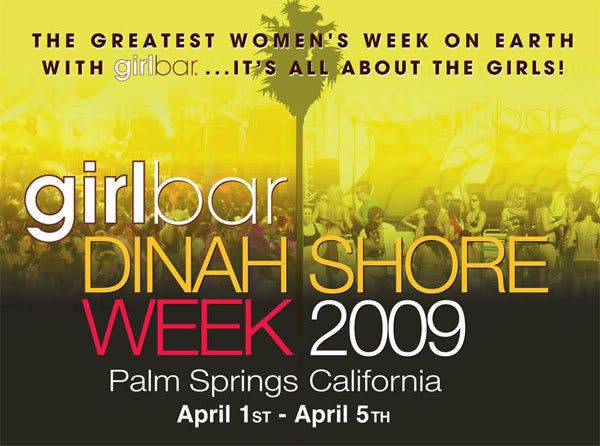 GIRLBAR DINAH SHORE WEEK 2009 passes are available to purchase online PLUS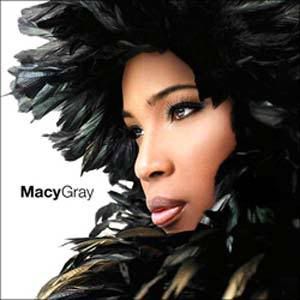 Let us plan a LUXURIOUS VACATION you will never forget!
This year we have TWO incredible VIP packages to choose from.
VIP packages still offer exclusive passes to VIP only parties, express entry to all events, but VIP rooms are now offered at the two best hotels in Palm Springs.... Hotel Zoso and the Wyndham.
Girl Bar® Dinah Shore Week Palm Springs Hotels 2009
The Wyndham Hotel is host to the renowned, crazy, and ever so WILD pool parties. If you like to party and be in the middle of it all….this is the place for you to stay. We have added on VIP Pool Room Views this year. Each year this hotel sells completely out!. Make your reservations today before it's too late.
The Courtyard by Marriott is another sell out hotel each year and this year, it's exclusively for Girl Bar® guests. It is very affordable and you know with a name like Marriott you will get the best. The Courtyard Marriott is located right next to the Wyndham Hotel and walking distance to all of the events. Book early and save!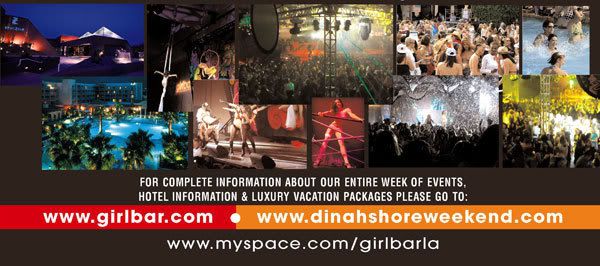 For more information visit www.dinahshoreweekend.com