News release:
The Domestic Partners and Family Health Coverage Ordinance Becomes Law After Surviving Last Minute Onslaught From the Christian Family Coalition Urging Mayor Alvarez to Veto Measure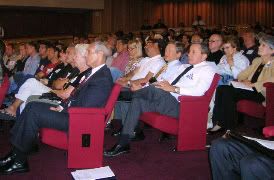 Miami, FL - Thanks to the support of Mayor Carlos Alvarez, the Domestic Partners and Family Health Coverage Ordinance is now law in Miami-Dade County. The Miami-Dade County Commission approved the ordinance at their meeting on May 20, 2008 in a historic 8 to 4 vote. Any measure that is passed automatically becomes law after 10 calendar days unless vetoed by the mayor.
During that period the Christian Family Coalition, through email, phone calls, and the power of Spanish-language radio, put mounting pressure on the Mayor to veto the measure. We thank Mayor Carlos Alvarez for his keeping his promise to our community, allowing the ordinance to become law. Now Miami-Dade County employees work in a fair workplace that administers benefits equally.
The county now has 80 days left to implement the ordinance giving county employees the ability to extend health insurance benefits to their domestic partners and the dependents of their domestic partners.
The ordinance creates a domestic partner registry that county employees, county residents and visitors may use to officially register a domestic partnership. These registries are important as many private sector companies rely on them to extend their own health and employee benefit packages to the domestic partners of their employees.
"Again, we thank the Miami-Dade County Commission and Mayor Alvarez for their courage and recognition that work-place equality is important," says Heddy Peña, SAVE's Executive Director.
Find out when and how you can be among the first couples to register by watching your inbox for all emails from SAVE. Details will follow in future emails.
Again, thank you, all of SAVE's volunteers, and our partner organizations for their tremendous help passing this landmark ordinance. When we work together, we all win!
About SAVE
Safeguarding American Values for Everyone (SAVE) advocates for equal rights for all people regardless of their sexual orientation, and educates the community about human rights with emphasis on issues affecting the lesbian, gay, bisexual, and transgender (LGBT) community. Established in 1993, SAVE accomplishes this mission through education, grassroots organizing, volunteer mobilization and community advocacy. Starting with the landmark passage of Miami's Human Rights Ordinance in 1998 to recent enactments of domestic partner benefit policies, SAVE continues to lead the fight for LGBT equality in Miami-Dade County.
12864 Biscayne Blvd., Ste. 338 l North Miami, FL 33181 l 305.751.7283 o l 305.751.9649 f
http://www.savedade.org l savedade@savedade.org