Join the Impact, the coalition that organized national protests after the general elections in November, is planning a new demonstration for Saturday night. The details are here in a local invitation from SAVE:
This Saturday, December 20th, you are invited to LIGHT UP THE NIGHT FOR EQUALITY on the corner of Lincoln Road and Washington Avenue, in South Beach. This demonstration will be one of many taking place in cities and towns all across the nation, in remembrance of the civil marriage rights that were taken away on November 4th, and in honor of the future of equality that is to come.
We will begin gathering at 6:45pm, and at 7:00pm, we will stand united in a silent, candlelit protest. We will not yell, instigate, or chant - but we will be visible to our community and neighbors.
Please bring along a long-burning candle (preferably with a wind guard). A flashlight would work too. Extra candles / flashlights to share, if possible, and homemade "2nd Class Citizen" t-shirts are encouraged.
For more information, go to www.JoinTheImpact.com, or find us on MySpace or Facebook by searching for Light Up The Night for Equality.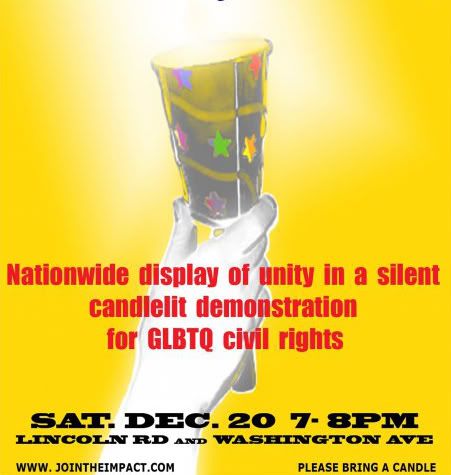 SAVE is a non-profit organization supported
by contributions from the community.

About SAVE
Safeguarding American Values for Everyone (SAVE) advocates for equal rights for all people regardless of their sexual orientation, and educates the community about human rights with emphasis on issues affecting the lesbian, gay, bisexual, and transgender (LGBT) community. Established in 1993, SAVE strives to accomplish this mission through education, grassroots organizing, community mobilization and advocacy. Starting with the landmark passage of Miami's Human Rights Ordinance in 1998 to recent enactments of domestic partner benefit policies, SAVE continues to lead the fight for LGBT equality in Miami-Dade County.
12864 Biscayne Blvd., Ste. 338 l North Miami, FL 33181 l 305.751.7283 o l 305.751.9649 f
http://www.savedade.org l savedade@savedade.org
"2008 Not for Profit of the Year" l Miami-Dade County Gay & Lesbian Chamber of Commerce